How Are Mass. Student Journalists Covering Gun Violence?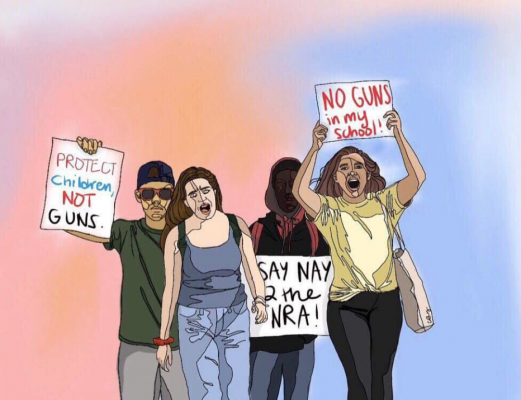 The Parkland, Fla., shootings and subsequent walkouts and protests have generated a lot of coverage in Massachusetts student publications and broadcasts. Here is a sampling of work from across the state:
News stories: 
Boston's Teens in Print devoted its whole March issue to the subject.
Somerville High School's The Piper had to cover the gun deaths of two recent students in the fall.
Andrew Friel and Ben Walker of the Westford Academy Ghostwriter covered a local story with frightening echoes of the national debate in "Gun arrest hits close to home"
Walkouts/Protests
The Pentucket Profile's Abby Cain with "Pentucket Group Joins the Fight for Changing Gun Laws"
Rebekah Redwine of the Pantherbook at Franklin High School with "A Walk Out Planned at Franklin High"
The Gloucester High School Gillnetter's Danielle Denman wrote "GHS students speak up and walk out against school gun violence"
The West Sprignfield High School Terrier Times wrote "Students Join National Movement Demanding Change"
Rachel Avram of the BB&N Vanguard wrote about the school's embrace of a controversial form of crisis training in "Campus rallies for new crisis training"
Liam Ashburn of Amherst Regional's The Graphic wrote this piece about students protesting.
Emmie O'Shaughnessy and Caroline Raymond of the Pacemaker-winning site WSPN at Wayland High wrote "Students To Walk Out On March 14" 
Sara Zakaria of the Malden Blue and Gold wrote "Malden High School Students Walk Out"
Harvard forum with Parkland students: 
Maria Kotob and Danielle Denman of Gloucester High School's The Gilnetter with "GHS Students attend panel discussion with Parkland students"
Hari Narayanan of the Newtonite at Newton North covered the forum in "North Students Attend Parkland Student Forum On Gun Violence, Affecting Change"
The Sagamore from Brookline was at the forum as well, and Mia Thompson and Rachel Nguyen wrote "Marjory Stoneman Douglas Students Speak At Harvard Forum" 
A couple of weeks before winning a Pacemaker, The Harbinger at Algonquin Regional High School was at the CSPA convention in New York to hear the Parkland journalists, and Paige Morse and Anna Silver wrote about it in "Parkland journalists: "We know the power of our voices"
Alison Santosuosso of Abington High School's Green Wave Gazette covered the aftermath of the shootings in "School Shooting in Florida Leads to Nationwide Student Action"
Sam Chen of the Acton-Boxborough Spectrum filed "Gun Control and the AB Walkout"
Photo galleries:
Brookline's Sagamore posted this gallery of photos from the March 14 walkout.
This is what the walkout looked like at Algonquin Regional, courtesy of The Harbinger.
Emma Taubert of the Millbury Reflector posted these photos from the 3/14 walkout.
Opinion pieces:
Macy Lipkin of the Groton Circle Voice critiqued the president's response to the Parkland shooting in "Trump's Visit to Parkland Only Added Insult to Injury"
Megan McGuinness of the Holyoke Herald asked: "Gun Violence in Our Schools; How Do We Stop It?"
Zoe Goldstein of the Newtonite at Newton North placed the recent activism in a historical context in "Student Activists Find Empowerment in History" 
Vikiana Petit-Homme of Boston Latin Academy had this reflection on gun violence.
Kavya Desikan of the Westford Academy Ghostwriter won a Special Achievement Award May 4 for this piece about arming teachers.
Broadcasts:
Newton North TV's Maya Matthews covers the Boston March for Our Lives.
Triton High School's VTV asks whether arming teachers is a good idea (segment starts at 3:45)
Plymouth South's Panther TV filed this report.
This is by no means a complete list. If you have a link you'd like included, just email it to Executive Director Brian Baron at [email protected].